Introduction to the Automotive Design Process using CATIA - Part 2

This is a continuation of part 1 of Skill-Lync's series on plastic design for automotive applications. You can read the first part - here. The contents that will be covered are the last two from the list given below:
Automotive Design Process understanding and where the Trims design helps in the Product Development Process.
Trims – Interior and Exterior.
Understand:

Class A surfaces and tools that are used.
CAD software and their applications to Trims design.

Plastic Design – An overview.
What this course is about, and what is the potential for it?
Plastic Design – An Overview
Plastics are being extensively used in the automotive sector. The automobile industry constantly tries to reduce the overall weight of the product without compromising structural integrity in order to improve performance and fuel efficiency. Plastics enable them to do just that.
Plastics are incredibly light in weight, and their strengths are comparable to their metal counterparts, which makes them very useful in automobiles. Moreover, plastics can also be molded or printed in ways that are much easier than that for metal components.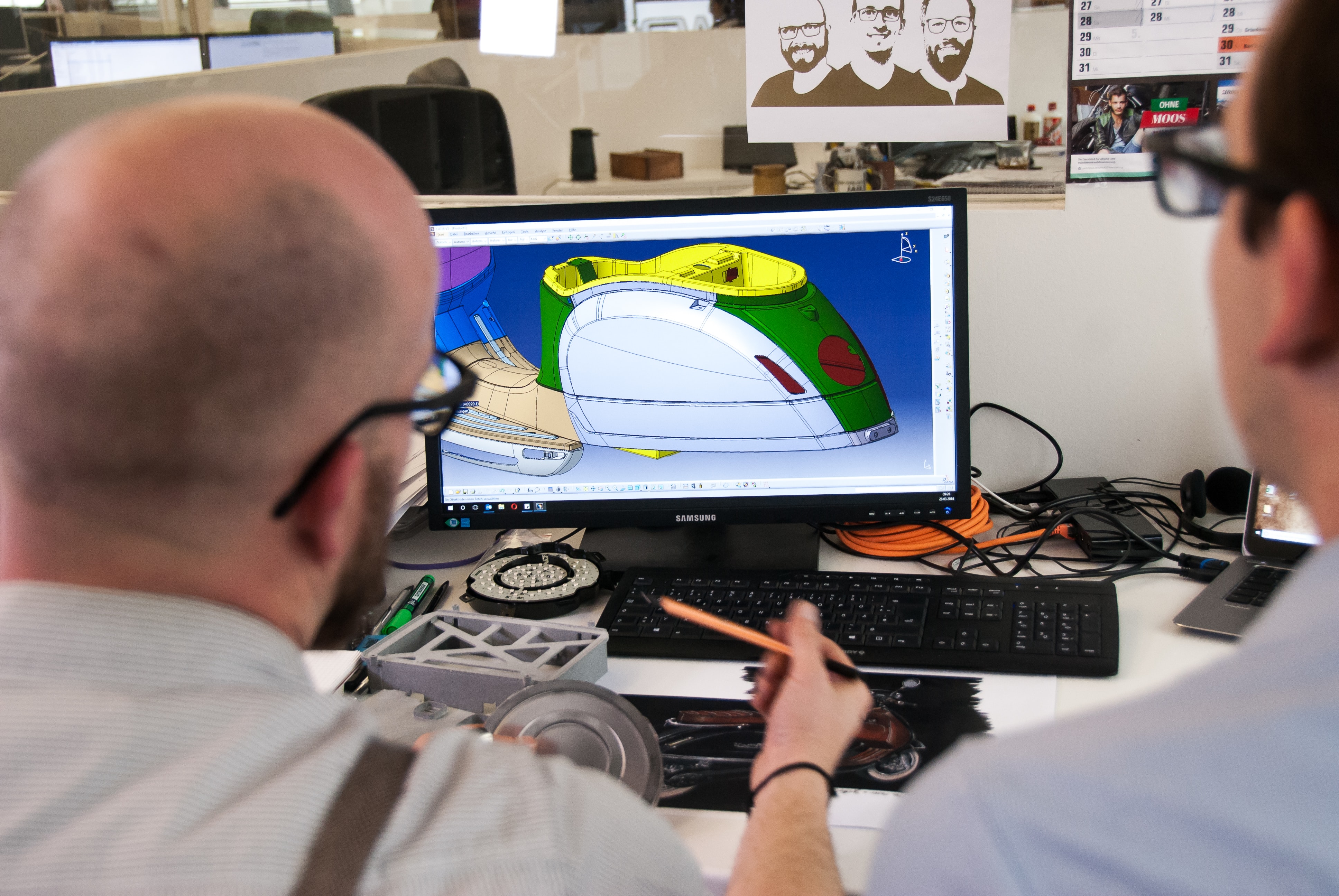 Plastic Design Considerations
Both interior, as well as exterior trims, consist of a plethora of smaller parts and components. Each of these components is a product of extensive labor and research in terms of design, manufacturing, and material considerations. So, let us take a look at some design considerations for a plastic model or component design.
1. Functional Requirements
Design intent
Material selection
Ergonomics
The functional requirements talk about the intention or role of a particular part or component in the product. They seek to create a balance among necessity, aesthetics, and functionality in any spectrum.
Next, come the materials and ergonomics. They look at the comfort and usability aspect of the component. For example, the good ergonomics of a steering wheel of a car would imply that the driver would not experience much discomfort or fatigue of a certain period, say 12 or 15 hours, of driving.
2. Material Selection
Strength/ductility
Temperature
Load/vibration
Material selection takes into account the loads and stresses that would act on the component in addition to fatigue, elasticity, ductility, and other characteristics. The material that would be used should also be tested for how much vibration it can withstand and how much it would induce due to properties like resonance.
All of these and more are factored in to ensure that the component does not fail during operation, which can potentially cause road accidents in the case of automobiles.
3. Reliability
Impact test
Scratch resistance
Impact and scratch resistance tests are done in order to ensure that the product users can unflinchingly rely upon the integrity and functionality of the parts or components.
4. DFA
Snap fit
Ultrasonic weld
Bolt assembly
This deals with the mechanism of attaching or mounting components on your automotive product.
5. DFM
Maximum flow length
Minimum wall thickness
Cycle time
Manufacturing cost
DFM talks about manufacturability and the parameters involved in it, like cycle time and cost.
6. Economy
Economic factors such as cost and serviceability are crucial in this industry. A small increase in cost can translate largely to the end consumer and thus lowers the overall sales of the company.
Key Elements of a Plastic Design
Skin form A surface and B side design – The A surface is generally the exterior and aesthetic part of the component, while B side is the functional, mounting, or supporting side of the component.
Mounting features design

Locators
Dog house
Ribs
Snap fit
Clip tower

Texturing – Texture is an important element to consider as it can significantly drive changes in the cost and manufacturability of a plastic part or component. For example, a plain textured part can be machined, molded, or printed without hassles, but the parts with detail textured require additional manual and machinery input.
Tooling Analysis in CATIA
3D CAD models can be made manufacturable by adhering to the parameters, limits, and restrictions of the manufacturing equipment. A trial and error approach in such a case will cost a large amount of money and many work hours. This is where tooling analysis comes in.
Using tooling analysis in CATIA, one can figure out if the model is manufacturable and also pinpoint the design areas that need to be optimized for manufacturing.
CAD Software
There are many powerful 3D CAD software like CATIA, Creo (Pro-e), SolidWorks, Solid Edge, Autodesk Fusion 360, and Autodesk Inventor that are used across various industries. However, the software that is most popular in the automotive sector, globally, are:
CATIA (V6)
Unigraphics (NX11)
CATIA is very popular because of the flexibility it offers over other software.
Why CATIA and Unigraphics
As part of the automotive Body in White (BiW) and Trims have more complexity in terms of surfaces due to style requirements, CATIA and Unigraphics are used.
CATIA and Unigraphics have various commands and more flexibility to create complex surfaces, whereas another competitor CAD software has limitations in these areas. For example, the software Creo performs well in the case of solid models like engine blocks but breaks down in performance and flexibility when it comes to Trim parts.
Hence, most of the OEMs all around the globe prefer CATIA and Unigraphics. This is also because BiW and Trims contribute to about 40 to 60% of the overall automotive passenger cars. So, they need a much higher degree of control, flexibility, and reliability.
Scope of This Course and Conclusion
This course will empower you with all the basic skill sets required for a head start in industrial design engineering, particularly in the automotive sector.
What makes it exceptional is that the learning outcomes and skill sets you will obtain from this course are not limited to any one country like India, but will put you on the global map of design engineering and open up a host of opportunities unlike ever before!
To learn more about this course, check our Master's program in automotive design using CATIA by clicking here.
You can watch the workshop video used for writing this blog - here.