In this module, the objective is to familiarize the student with both the traditional (ICE) and electric powertrain concepts. While Electric Vehicles will eventually make it to the market, the ICE will always be continuously optimized and researched upon. When you finish the first two modules, you will be quite familiar with the following topics.
Performance Calculations
Understanding the key performance indicators is essential to understand any thermal system. Learning these will help you understand the entire Vehicle Development Process
Electric Vehicle Architecture
Most of the students must be familiar with how an I.C. Engine operates. When it comes to electric vehicles a thorough understanding of the various sub-systems is important in getting a holistic understanding of the system.
Battery Module System Design
The design of the BMS determines the driving range of the vehicle. Understanding the various design aspects of the BMS will help in engineering it perfectly.
Control Systems
In real-world conditions, a hybrid power-train employs a lot of electronics to switch back and forth between the two power-trains. This is employed using the application of control systems.
Vehicle Handling and Dynamics are very important for the safety and performance of cars. Depending on the car segment, different suspension architecture exists. How are these architectures proposed, designed and developed? Well, that is what you will focus on in this particular module.
Hand calculations | Programming | Detailed 3D Simulations
Concepts such as wheel rates, instantaneous centers and scrub radius are fundamental concepts. Depending on the complexity of our suspension model, we can perform calculations ranging from pen-and-paper to detailed multi-body dynamic simulations using software packages like Adams Car. In this course, you will be doing all of the above.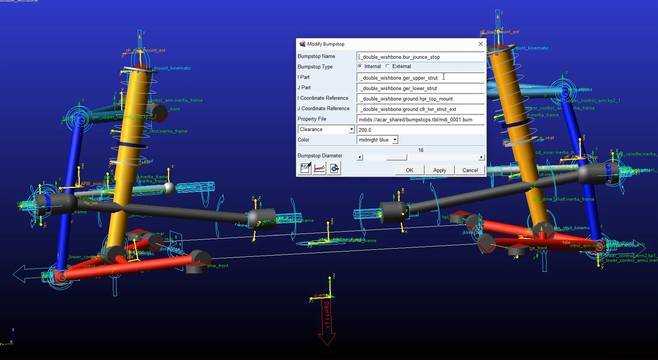 A well-designed part helps keep passengers safe and Finite Element Analysis plays a key part in the development of such parts. Techniques such as steady-state and transient methods are used to estimate the strength of parts under linear and non-linear conditions. When you finish this module, you will learn which simulation methodologies need to be used for which type of parts and loads combinations.
Finite Element Analysis using LS-DYNA

LS-DYNA is a robust multi-physics environment. This will be the first course in this module and will help you achieve a strong foundation in FEA.
Crash-worthiness using HyperMesh and Radioss

This course is more application focussed. You will learn to perform computer simulations to estimate the crashworthiness of cars. In this regard, you will learn how to compute intrusion length and energy path distribution.
Learning a CAD Package(s) is not design. Designing is a problem solving technique, where you create a product that satisfies several constraints. These constraints can be technical and non-technical.
In this module, you will learn the art of designing to constraints. We will focus on how sheet metal parts are designed and manufactured in the industry. We will understand the different constraints that are in place while designing Body In White (BIW) components and use engineering principles to create the final product.
Understanding flow behavior is extremely critical in obtaining peak performance from various sub-systems that make up a vehicle. From intake systems to the cylinder to the after-treatment components, every inch of piping, bends, and curves has been carefully designed to satisfy the requirements of several teams.

In this module, your focus is on taking up several courses that teach how to simulate flow in systems such as superchargers, turbochargers, cabin-interior, after-treatment systems, and finally the entire vehicle.

External Aerodynamics

In this module, You will learn, how to perform external aerodynamic analysis on full-sized passenger cars and racing cars. You will understand the objectives of your simulation and will prepare the computational models accordingly.
Pumps, Compressors and Super-chargers



Depending on the segment, a passenger vehicle can have multiple turbomachinery components. Each of these components are subjected to CFD simulations to evaluate their thermal performance. In this module, you will learn the following
Creating the computational domain for turbo-machinery simulations.
Choosing the right boundary and initial conditions for the problem.
Employ steady and transient solvers to accomplish the end result.
Understand core physical models such as turbulence and cavitation modeling