The Sketcher Workbench has tools for creating and editing sophisticated 2D objects known as sketches. Constraints can be used to precisely position and relate the geometry inside these sketches. They are useful everywhere in FreeCAD but are principally intended to be the building blocks of PartDesign geometry.
This blog will give you an advanced understanding of Sketcher Workbench in CATIA V5.
1. FORMULAS
Those who know SolidWorks may often make equal geometrical constraints to make two selected lines, circles etc with the same dimension, so in future, if one is modified, the other one's dimension also changes accordingly.
You may not find this option anywhere in the Constraints Defined In Dialogue Box(where we search this geometrical constraint) of the Catia sketcher workbench. So anyone using this option in CATIA needs to learn how FORMULA works.
EXAMPLE 1: Create two circles and give different diameter values. Here I am using 100mm and 50mm.
Go to Tools -> Formula and find our two circles with Radius values.
Inside the formula, find our two circles. Here the circles, along with the "radius" value are represented. Even Though we gave a diameter, the value will be indicated in diameter when it comes to the formula. To find the bigger circle with a radius value of 50mm and the smaller one with 25mm.
For easy understanding, here, let's rename the bigger circle from "Geometrical Set.1\Sketch.1\Radius.16\Radius" to R1 for easy understanding. Repeat the same for smaller circles by renaming it from "Geometrical Set.1\Sketch.1\Radius.18\Radius" to R2. Hereafter renaming, inside Parameter, R2 is selected as default. If you want to change some other values of your sketch, you must select them from here.
Now click on Add Formula. You will get one more dialogue box. Since we preselected the R2 value shown in the above image, Formula Editor will be highlighted as Formula Editor: R2.
If you want to make an equal radius value for R1 and R2, you need to simply write R2 over the block. So, the box represents R2 = R1. You can also see a formula symbol added to the 50mm Diameter.
Now click Ok and Apply. You may notice the 50mm Diameter circle is turned into 100.
If the value is changed to 20mm, the other circle diameter will also change to 20mm.
Not only can we make them equal, but if you want to make a relation in which one circle should be half of another one, but you can also change it accordingly in the editor.
In the formula editor, If R2 =R1/2 and If we change the bigger value from 100 to 200mm diameter, the smaller circle will change from 50 mm to 100mm diameter.
Adding formulas is not constrained to the circular profile itself. Let's take another example.
EXAMPLE 2- Here, we are creating a 4-sided closed profile. Two opposite sides are given with 20 and 60mm
Here we rename the 20mm side as S1 and 60mm side as S2. Later a formula is added as S1 = S2.
Side 20mm now will be in relation to side 60mm. When the formula is applied, both will turn equal to 60mm.
2. Adding and Avoiding Relations While Using Project 3D Element
EXAMPLE 1- This is an important topic that explains the advantages and disadvantages of having a relationship with parent bodies. You may have used the command called Project 3D Element for converting an edge of a previous parent body. This will help locate the exact position of that edge so that we can use it as support for our new sketch.
We may find it very useful. But have you ever wondered in the background what we have actually done by using a Project 3D Element option?
We Made Our New Body In A Relation With The Previously Created Parent Body.
Let's see what will happen if we make some changes here.
So before moving further, we need to know that while working in an industry, the dimensions for the model you created today won't be permanent throughout our entire design. There are higher chances that the dimensions keep changing along with the background modification we are doing. For example, if any of the part dimensions are modified in an assembly, the parts attached to that will also need to change accordingly. But in some cases, when one of the parts changes, the parts closer to it need not necessarily be changed along. This can be depending upon the situation where the closer parts need to be changed or in some cases not ideal for a change in dimension. There can also be some cases where some components inside the part need to be deleted. So a continuous trial and error rework is done on the models and their progress. Especially if you are working on a top-down approach assembly, the concept keeps on changing along with all new modifications that we are doing over the course of time. So if we are keeping a relationship with the parent body we need to know that there are situations in which that in turn will make huge issues/errors. From the above image if I need to change the breadth of the rectangular portion from 100mm to 50mm due to some reason. I need to edit sketch 1 i.e the rectangle sketch. Also, I want my top triangle dimension or position to get changed along with that when I do the edit. So keeping these conditions in mind, let's make the required change and see what will be the end result.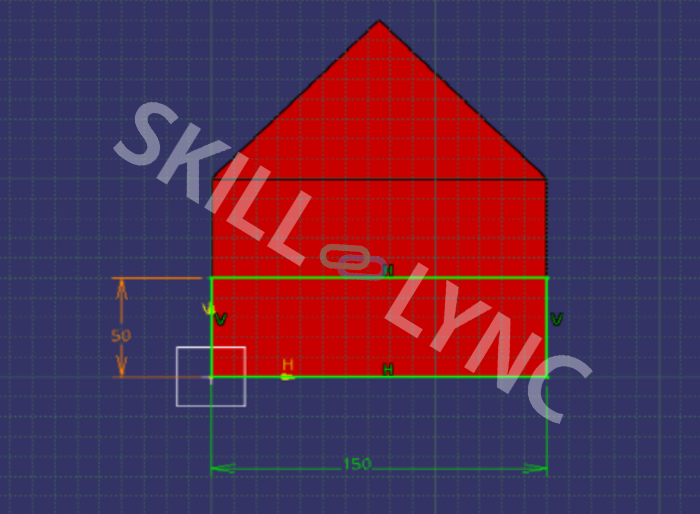 So the end result is like, I was able to modify the breadth to 50mm and also able to change my top triangle dimension or position along with that.
Suppose, I want my required result to be as in the following. To achieve it, we need to break the relationship.
Here we need to satisfy a condition in which we need to edit the breadth of the rectangle from 100mm to 50mm, and we also need to achieve this without sacrificing triangle dimension and position.
So, how can I achieve this? What is the main reason I could not achieve this before? So we now know that when I edited the rectangle breadth, there is some kind of relation acting between the rectangle and triangle, which pulls the bottom triangle side along with the modification that in turn results in changing the dimension and ultimately its position and shape.
Let's see how we can achieve this. Here we project the element from the previous body to the new sketch. By doing so, we need to ensure that we are not keeping any relation between them. How to know if we are keeping a relationship? So when we projected it, you may notice a yellow color over the projected line. This clearly indicates that there is a relationship.
So how to resolve this? We actually need to isolate the yellow line and then constrain it. For isolating it we need to right-click on the line and go to Mark 1 Object and select Isolate.
You will get the line as white colour which means it is now isolated and has no relation with the parent body.
Also don't leave it as such. You need to constrain it properly afterwards.
Now let's try to edit the rectangle by making it 50mm.
If we exit the sketch and see, you may notice that we got the required result.