Add is a Boolean operation that adds material regardless of whether it has a positive or negative feature. Whereas, assemble is the Boolean operation that considers whether the feature is positive or negative and decides whether to add or delete material.
This article explores the 'add' and 'assemble' operations in Boolean in detail.
Add and Assemble Operations in Boolean
When we insert an additional body apart from our main body, we use to see a positive sign over the body symbol. This simply means the body is positive.
Now lets create some additional body inside body 2 and add it with the main part body.
Now lets insert one more body i.e.body 3 and that too has a positive sign.
Now let's pad a circle inside the new body 3.
After padding, the body 3 remains with that positive sign.
Now, let's delete the pad that has been done inside the body 3 and perform a pocket operation instead. Also, keep the fact in mind that what we are about to pocket is an empty body(body.3) in which there is no other operation performed. Unless it is boolean with the existing bodies (body.4 and body2) that were created previously, body 3 remains independent.
After going with the pocket operation, you may notice that the body sign has turned from positive (+) to negative(-). Also when we click ok to the new pocket operation, instead of removing materials from the base body, it creates itself into a solid. Here the pocket operation got changed to pad operation along with the sign change.
The actual explanation here is that when we tried to pocket on an empty space created by body 3, instead of removing material from the space, it filled itself over the volume used by the pocket operation. The negative sign indicates the same reverse operation.
Now lets delete the pocket and try to pad a rectangle over the body 3.
After deleting the pocket, the negative sign is now changed to positive, and it stays positive even after doing the pad. This is because the pad is a positive operation here. We are creating something in empty space.
Now let's define the same body 3 and go with the pocket operation on our previous circular sketch. This time, since we have a solid inside body 3, i.e. rectangular body, the pocket will remove material from the rectangular solid.
Something interesting here is that, even though the material got removed from pad 4 inside body 3, the material inside the rectangular base(pad 1, body4) stays there without getting pocketed. This is because the rectangular base(pad 1) is not a part of body3.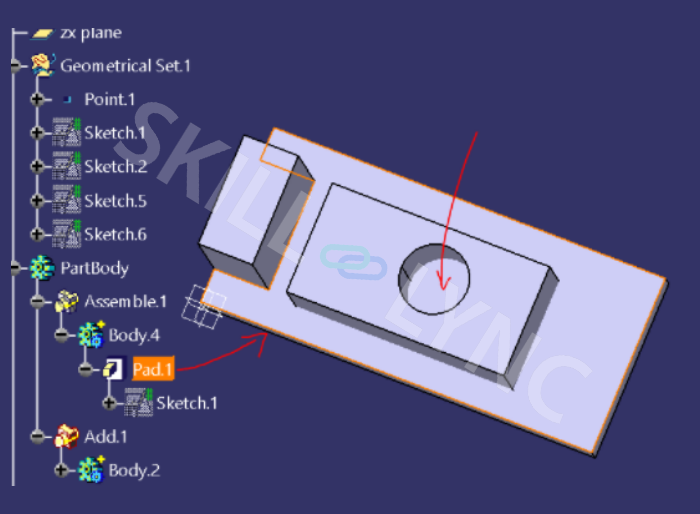 Now if we define the part body(main body) and remove booleans with body 3, we have our final result in which the space used by body 3 is removed by the boolean.