Element normal is the normal of that individual element in the system. While meshing a component there are high chances for the normal of the elements to change their direction. This change in the direction happens because of inconsistencies in the normal of the surfaces in the geometry. In FEA, for a simulation, the elements are considered over the surface. This is exactly why it is sufficient to change the element normal.
What do these Normals do in FEA simulations?
The normals will directly affect the calculations of the physical quantity that directly depends on the direction. For example, a pressure load in a cylinder. When a pressure load is applied in a cylinder or in any sort of geometry it is always essential to check the normal of the element to which the load is applied.
Let us take a look at this simulation below where there are two cases, first case with all the elements with uniform normal, and in the second case a few elements with different normal than the others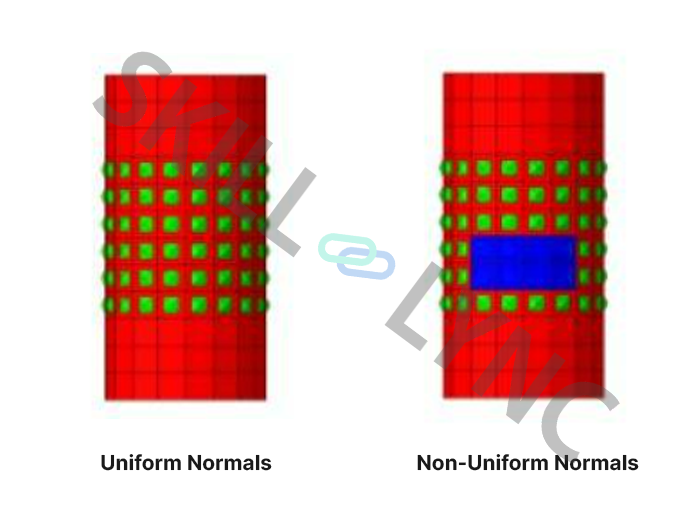 In these cylinders, the elements highlighted in green color are the elements on which pressure of 5KN is applied uniformly in the outward direction. Now, the red color is indicated as the normal of the cylinder, these normals are facing in the outward direction of the cylinder. Similarly, in the second case i.e, in the non-uniform normals, the blue color indicates the normals are facing inward to the cylinder.
When we simulate this problem, we can clearly understand the effect of the normals.
SIDE VIEW:
When we look at the stress plot, for the first case where the pressure is applied uniformly in the outward direction the stress is distributed uniformly around the cylinder.
In the second case, the stress distribution is not uniform indicating the elements which had a few normals in the opposite direction also had the pressure applied in the opposite direction. And because of this deformation of the cylinder is also changed.
So when the normal in the elements is overlooked, this might make the entire simulation meaningless.