Professionals of information technology earn the highest salary package globally. After Saudi Arabia, the United Arab Emirates, and Egypt initiated and developed digitisation projects; other Middle Eastern nations began to pay greater attention to increasing their investments in technology. In the Middle East, IT is one of the most lucrative career options.
Contrarily, the Middle East is also renowned for having abundant natural resources like oil and gas, which are sectors that also pay well for people working in the fields above. However, combining natural resources and IT raised the entire region to a new level and unlocked new doors for creativity.
In this guide, we are about to explore various engineering jobs in the Middle East for Indian nationals in their nascent growth stages.
Jobs in the Middle East for Electrical Engineers
For many years, electrical engineering has been a crucial component of human progress. This part of the world has been better informed, enlightened, and linked thanks to contemporary electrical engineering breakthroughs, which range from smart TVs and lighting solutions to mobile gadgets and portable gizmos.
A new major transformation is taking place in electrical engineering, and ambitious research and development teams from all over the world are working here to enhance various aspects of the citizens' lives, such as communications, safety, and energy effectiveness.
Automotive Engineering Jobs in the Middle East
An automotive engineer's typical duties include designing and testing various car parts, such as fuel technology and safety systems. Some automotive engineers also do repairs and inspections on automobiles after purchasing them. They can repair both interior and exterior car parts.
In Middle Eastern nations, an automobile engineer's typical responsibilities include:
Putting together design specs

Employing computerised models to investigate, develop, and produce new automobiles or vehicle components to understand how they behave and function.

Considering incidents of product failure

Calculating the cost of new or used vehicles

Producing ideas and drawings for new vehicle goods and evaluating the safety and environmental aspects of an automobile project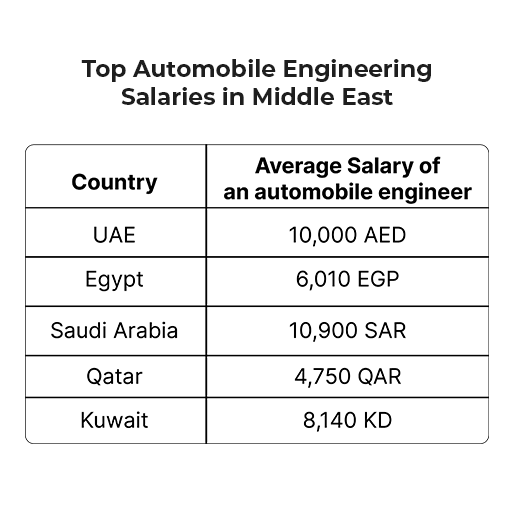 Mechanical Engineering Jobs in Middle East
Once you have gained substantial expertise, you may be able to work for yourself in the Gulf via consultancy services and contract work.
Jobs can also be found on websites managed by the Institution of Engineering and Technology and the Chartered Institution of Building Services Engineers.
Biomedical Engineering Jobs in the Middle East
Artificial organs and prosthetic limbs, as well as the materials needed to create them, are created by biomedical engineers. They create the software needed to operate medical devices.
Manufacturers of medical supplies and equipment, hospitals, and research facilities are among the employers. The engineer's workplace will probably rely on whatever option they select and the specifics of any projects they work on.
You might find yourself in a manufacturing facility or a hospital. You'll typically be collaborating with a group of people, such as scientists and healthcare professionals.
Civil Engineering Jobs in the Middle East
The Middle East's construction industry is flourishing with its improving infrastructure. For graduate and professional engineers from around the world, the emergence of mega projects in the area opens up exciting employment prospects that motivate them to leverage technology to drive innovation and sustainability. The opportunity to work on these significant and challenging projects is luring structural engineers worldwide.
The construction of some of the largest and most innovative plans is currently taking place at a scale unseen. For instance, the city of Neom in northwest Saudi Arabia will be the first "cognitive metropolis," where world-class technology is powered with data and intelligence to interact seamlessly with its populace.
Conclusion
Numerous opportunities are open for engineers who aspire to establish a flourishing career in developing countries of the Middle East. With the help of Skill-Lync's engineering courses online, you can become job ready in just a few months.
Skill-Lync's leading industry professionals will impart the right skillsets and make you eligible for lucrative career opportunities worldwide.