This article will take you through the basics of mold design like:
Current scenario of the mold industry

Engineering plastics in automobiles

Plastic material properties
Plastic Processing Methods
Injection molding is not the only plastic processing method available commercially. Below are some types of processing methods.
Thermosets

Thermoplastics
Compression Molding
In this method, the core is fixed, and the cavity plate moves, as opposed to injection molding. Compression molding is generally used for rigid and hard-to-make parts like pot handles.
Rotational Molding
In rotational molding, the powder is first placed in the shell. The shell is then closed, after which the system is rotated while applying heat externally. This method results in the formation of a plastic component on the inner walls. The plastic part is then cooled and ejected from the system.
Extrusion
In the extrusion process, the material is first placed inside a container. A ram forces this material through a die to acquire the desired shape. Pipes and window panes are usually made using this process.
Vacuum Forming
Vacuum forming involves placing a plastic sheet over the mold, which will be clamped using a mechanism. The sheet is then heated, making it flexible. Food containers are examples of vacuum-formed parts.
Blow Molding
A molten piece of plastic is extruded from the machine and placed in the mold for the blow moulding process. The method entails blowing pressurized gas into the tube, allowing the plastic to capture the profile of the mold. Water containers and large drums are some parts that are made using the blow molding process.
Gas-Assisted Injection Molding
When making a component of high thickness using injection molding, the shrinkage of plastic creates small crates. This defect is known as a sink mark. Although similar to regular injection molding, the additives are added in the form of a gas in this process. Gas is added to the system's feed to avoid this defect.
Current Scenario of Mold Industry
Molding is a fundamental process in industrial production. It can be in the form of plastics, die casting, or sheet metals.
Injection molding is the most frequently used method for forming plastic components. For making sheet metals, press tools are used, and for die-casting parts, high-pressure or low-pressure die-casting methods are used.
The pursuit of lightweight design in automobiles promotes the use of plastic components and the development of plastic injection molding.
95% of car parts rely on a mold for batch processing.

Molds for about 20,000 auto parts (including sheet metal parts, die casting parts, stamping parts, plastic molded parts, electronic components, and more) are made in developing new cars.

Plastic is used for interiors, exteriors, and even for the cars' structural integrity. Hence, plastic components account for about 10 to 15% of the vehicle's weight.
The use of plastics in the automotive sector in developed countries is continuing to grow. The proportion of plastic injection molding in automotive moulding exceeds 60%.
Demand for Automotive Mold Development in New Cars
The diagram below shows the number of molds required to manufacture an average car. You can see that more than 20,000 automotive parts need molds, which include over 1,500 stamping dies, 800 plastic moldings, 300 sheet metal moldings, and 100 die castings.
Energy-Saving Effect of Automobile Weight Reduction
The weight of an average car is in the range of 800 to 1400 kilograms. A 10% reduction in weight typically corresponds to a 6 to 8% increase in fuel efficiency. Similarly, a 100kg weight reduction would save 0.3 to 0.6 litres of fuel for every 100 kilometres.
This is the reason why industries are trying to replace sheet metal and die-casting parts with plastics, as they are lighter.
Engineering Plastics in Automobiles
In this section, we will understand some applications of plastics made by injection molding. We will also look at which plastics are used in the industry.
Plastics are not just replacement materials. Instead, their use depends on technical merits such as lower weight, cheaper costs, low vibration, low noise, and more. Below is a well-structured list.
Demand for Thermoplastics
The image below shows the demand for thermoplastics.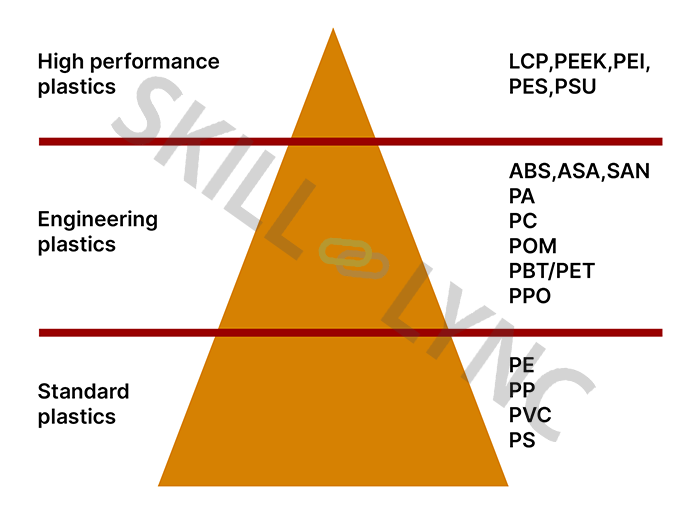 Standard plastics are those you might generally see in your households like bottles, buckets, mobile phone covers, and more.
Engineering plastics are those plastics used for making car or airplane components. High-performance plastics are used in applications that require high-temperature resistance and high strength.
Plastic Consumption in a Car
The self-explanatory table below shows the weight distribution of various plastics used in manufacturing cars.
Factors for Material Choice
Since there are many plastics available, all with different properties, the selection of the right material for your component should be done based on the following factors.
Mechanical properties

Electrical properties

Thermal properties

Price

Safety

Processing
Plastic Material Properties
Any design requires the product to meet several requirements. Hence, the plastic with the lowest cost that matches with the product requirements will be selected. There are six primary divisions of the most common engineering plastics.
Polycarbonates

Polyesters

Styrenics

Polyamides

Polymethyl meta acrylate (PMMA) (a.k.a. acrylic)

Polyoxymethylene (POM) (a.k.a. acetyl)
Check out the table provided in the image below for a comprehensive comparison of all the above six plastic types.
The table below shows come of the typical applications of the six types of plastics discussed above.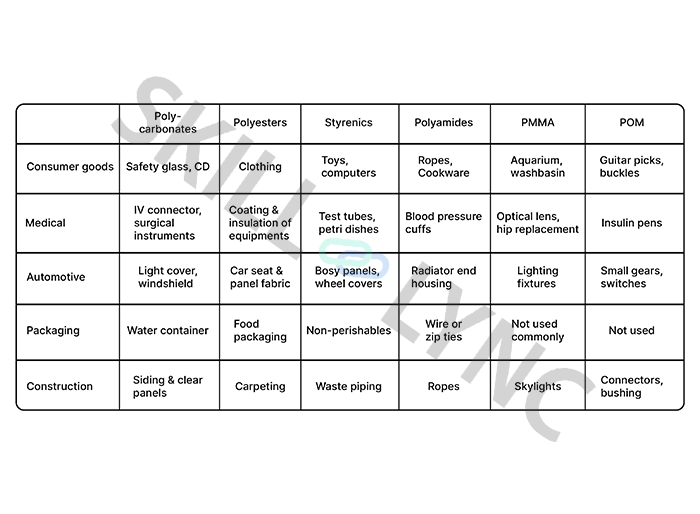 If you are interested in designing plastic parts using injection molding, a hands-on and industry-relevant course by Skill-Lync is just the thing to get you started.