With CFD and Thermal Sciences becoming the base of almost all the products we build, every university has a department in these fields. In this post, we discussed with top researchers in the field and have come up with universities and labs that perform world-class research in fields such as,
Combustion
Multi-Phase Flows
Turbulent Flow
Fluid-Structure Interaction
Hypersonics
Aerodynamics
Flow Physics
Bio Fluids
Shock Waves
Most top to moderately ranked programs will have rigorous coursework for those interested in fluids and thermal sciences. Here are 25 Universities that you need to consider when it comes to the above-mentioned fields. There is a lot of information in this post, in order to digest every bit of it try spending a significant amount of time. By the way, here is an excel sheet that contains all the 25 universities and their respective research areas.
I will start the list with my Alma matter,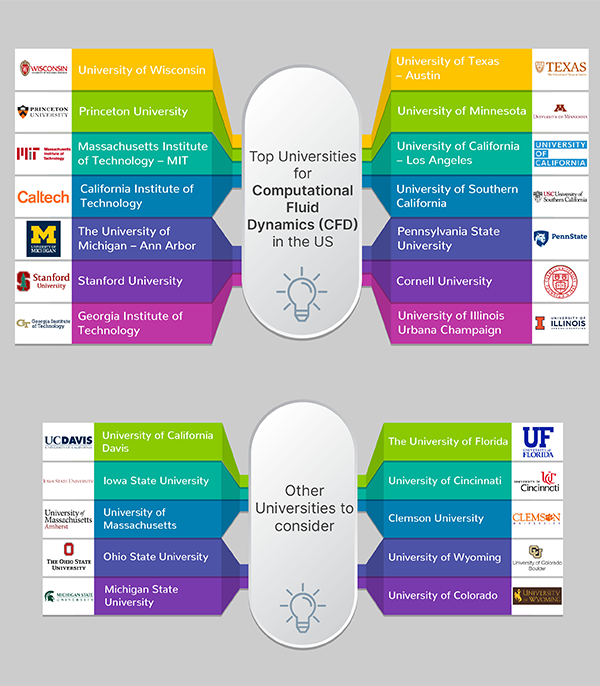 University of Wisconsin – Madison – Engine Research Center

If you are looking at pursuing your Post Graduation or Ph.D. in Computational Fluid Dynamics, especially in in-cylinder combustion, Multi-phase flow, Spray and Combustion models, and Chemical Reaction Mechanisms then you need to start with the Engine Research Center at the University of Wisconsin – Madison. UW has been in the forefront of Engine research and thus covers CFD as well. And if you require any further incentive to join, the founders of Skill-Lync call this University their Alma Mater.
Massachusetts Institute of Technology – MIT – offers varied research areas for you to explore, take a look at some of the famous fields below.
California Institute of Technology

Jet Propulsion Laboratory – "Founded by Caltech faculty, NASA's Jet Propulsion Laboratory (JPL)is a division of Caltech and is the leading U.S. center for the robotic exploration of the solar system. Working together, Caltech's and JPL's innovative researchers and technicians are shedding new light on our solar system's origins and are building knowledge not only of distant planetary environments but of Earth and its atmosphere as well. JPL is currently responsible for conducting missions with more than two dozen spacecraft." – Jet Propulsion Lab, Caltech
The University of Michigan – Ann Arbor, take a look at the combustion-related work being performed at Wooldridge Laboratory, Propulsion & Combustion engineering labs to get an idea of the research happening at UMich.
Stanford University – If you are looking to pursue your interests in Turbulence then Stanford should definitely be in your mind. Some of the top researchers work on important turbulence related problems here,
Georgia Institute of Technology
University of Texas – Austin
University of California – Los Angeles
University of Southern California

Fluid Dynamics – Take a look at the Fluid Dynamics research group at USC. They focus on Turbulence, Computational Fluid Dynamics, Aerodynamics, and Geophysical Fluid Dynamics.
Pennsylvania State University
University of Maryland – College Park
Cornell University – http://pope.mae.cornell.edu/
University of Illinois Urbana Champaign
The universities mentioned above, in general, are very good universities and tend to expect higher GRE scores i.e. in the range of 320+, if you did not get a chance to get 320+, some of the universities you can consider are listed below,
University of California Davis
University of Massachusetts – Amherst
Michigan State University
The University of Florida – combustion research
Check out List of Job opportunities for your Engineering Domain