This article takes you through the steps in representing a solid spring with a 1D CBAR element.
What is a 1D Bar element?
The finite element method divides elements into 1D, 2D, and 3D categories. Structural elements are made of beams and plates. Line segments are used to model bars and trusses as one-dimensional elements.
One of the dimensions for 1D elements is significantly larger than the other two. Examples include pipes, rods, beams, and axisymmetric shells. In each instance, the element's length is significantly more than its width, height, or diameter.
Advantages of 1D Bar Elements
Advantages:
Faster solution computing: Compared to 2D and 3D elements, 1D elements need a considerable decrease in mesh count and solution time.

Less modelling and meshing efforts.

It is simpler to modify designs as it alters the cross-section alone.

Beneficial for design codes and automation.
Step 1:- Generate a middle curve for the spring. By using the middle option in the curves. (As shown in the below image)
Step 2:- Connect the curve into a single curve. By using the connect(multi) option in curves.
Step 3:-Create a COG point for the curve to define the orientation.
Step 4:- Select the CBAR element.
Step 5:- Change the selection type to the curve box.
Step 6:- Select the curve and give the middle mouse click.
Step 7:- select the orientation node.
Step 8:- specify the element length. In this case, The Element length is taken as 3 mm.
Step 9:- After Specifying the element length as 3 mm, Do middle mouse click and define a pid by creating a new PID. (As shown in the below image)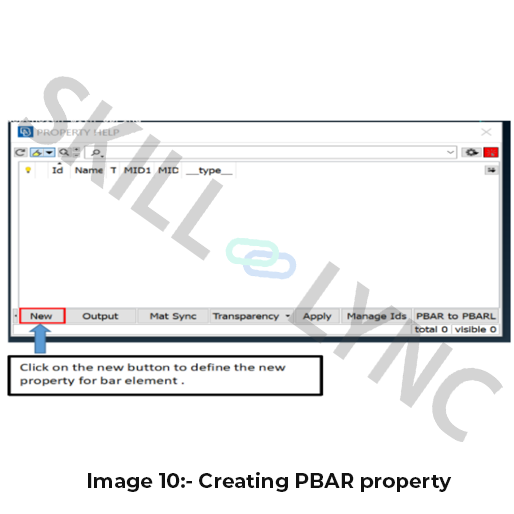 Step 10:- Define Area by giving Radius of spring. i.e. Cross section radius of a spring. Refer below images for better understanding.
After that, assign the cross-sectional radius of the spring element.
It will calculate the cross sectional area and moment of inertia.
Step 11:- 1D bar elements will be created.
Step 12:- To see the representation of 1D bar elements as 3D (Solids), check the box of 1D detailed representation with the solid in quality parameters shown below.
Step 13 :- Click on apply and ok. The 1D bar element will be represented as a solid element.
A CBAR element is a simplified CBEAM element and should be used whenever the cross-section of the structure and its properties are constant and symmetrical.