In the day-to-day life of a CAD designer we will be saving a lot of files in CATIA. We might have gone through save, save as and save all options. Here is something new we are going to discuss i.e, save management.
Basically the 'save' option is used to save a new file with a name at a particular location. Whereas the 'save as' option is used to save the already saved file with the same/different name at different locations. If you are working with assembly projects or files in multiple servers, it is difficult to save and manage all those files. We have a 'save all' option by which you can save all the files at a particular location. For suppose if you are creating a new part in the assembly and you want to save in the particular location where all the parts are saved then the save management option comes into play. It reduces the complexity of saving files. It saves a lot of time, and data storage also becomes easy.
Now lets see how to use, when to use save management and what steps to be followed for save management. Let's take an assembly which have multiple parts as shown below
Before starting let me tell you where the save management option is located, click on files and there you can find save management along with save and save as you already know about save and save as. So we are going to see about save management
When we click on save management a popup window is open as shown below, we can find all the parts which we have created for this assembly.
if you want to edit some parts and save then we can use save management For example let's consider the table. The table has sharp edges
Now a fillet is applied to the edge of the table.
Now let's go to save management to save the file. There we can see that in status bar we have seen one modified part
And also if we create a new part Window and minimise the new part graphic window and maximize the Assembly graphic window check on the Save management we can see the new part which we have created is showing empty in the location status
Again I will edit one more Part but this time I will use a new part body work bench for editing the path, just click on the path which we want to edit then object orientation and open in a new window.
The part which we have selected is opened in a new window and made edits.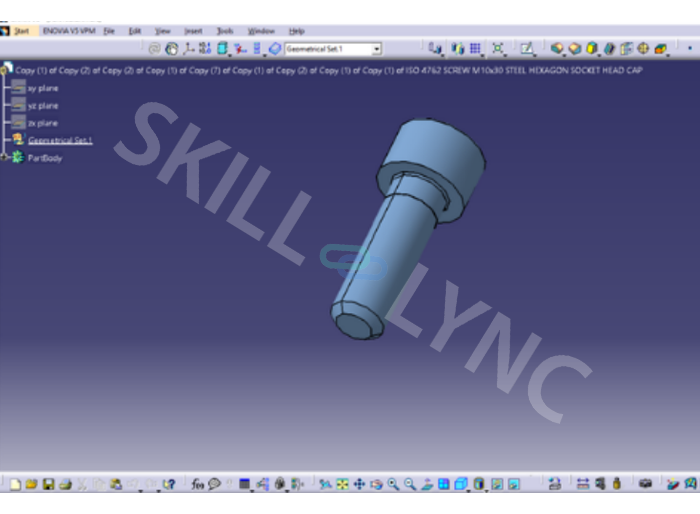 Now minimised Part window and open the assemble window as you can see the change which we have made, is shown in the Assembly
In this manner if we change 20,30 parts in the assembly we cannot manage everything whether we have saved it or not, Where did we save it or what is the condition of our part so for that we use save management.
now open the save management we see all the changes which we have done for the assembly
As you see that changes parts will have both save and save as but the new window which we have created is having only save as because we haven't saved the new part anyway.
Now I can select a new window and click on save as and save the file where I want to be saved now you can see the action status it is showing save
Now save all the modification parts and see in the action column the status is saved
Again I will go to save management what happened you have created all file but as you can see our new part is belong from another location, right now we just created one part and have the another if we have different location from 10 or 15 parts we cannot select everyone and select saved each other on other path for that we have propagate directory
Just click on propagated directory you can see all the parts have saved and just click ok all the parts can save in one file
Now you can open the file which we have saved and you can see all the parts which are related to this assembly are shown in one file that's how the save management is used.