VLSI refers to the cost-effective design and development of integrated, embedded systems and solutions at scale. The world runs on these solutions as such, Embedded and VLSI Engineers who create and maintain this system are highly sought after in the current job market. Are you an embedded and VLSI engineer looking for a job? If so, you've come to the right place! This blog will look at some top companies hiring embedded and VLSI engineers. We'll discuss the types of jobs available, the qualifications required, and your expected salaries. So, ready to start your job search? Let's get started!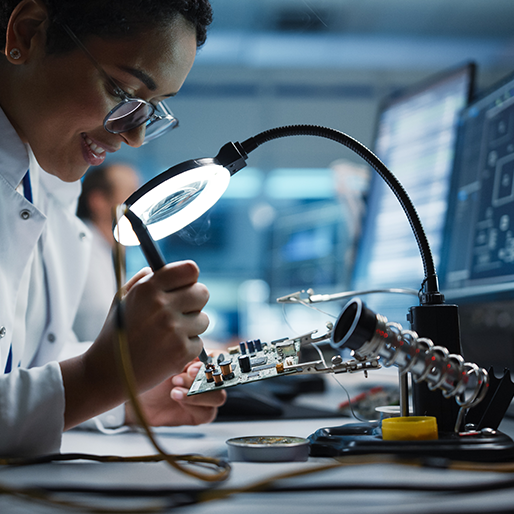 What are Embedded Systems?
An embedded system is a computer system with a dedicated function within a larger mechanical or electrical system, often with real-time computing constraints. It is embedded as part of a complete device, often including hardware and mechanical parts. Some examples of embedded systems include,
Washing machines

Digital cameras

MP3 players

Mobile phones

GPS
What is VLSI Design?
VLSI stands for Very Large Scale Integration. It is a process of designing Integrated Circuits or ICs with many transistors on a single chip. VLSI designers use computer-aided tools to create complex ICs with millions of components. Some examples of VLSI systems include Microprocessors in personal computers and graphic cards. VLSI design is used in various applications, including,
Top Companies Hiring Embedded and VLSI Engineers
From 2018 to 2028, embedded systems engineers should see a 21% increase in employment. Companies are looking for engineers with experience developing embedded systems, designing integrated circuits, and programming software for embedded systems. Some top companies hiring embedded and VLSI engineers are,
Intel Corporation
Qualcomm
Apple Inc.
Samsung Electronics
Samsung is one of the largest electronics manufacturers.

Salary ranges for VLSI Design Engineers at Samsung Electronics range between

6.2 to 6.7 LPA

.
Sony Corporation
Sony looks embedded and VLSI engineers to help design and develop new products and technologies.

At Sony Electronics, embedded engineers can earn between

10.9 and 11.9 lakhs

annually.
Texas Instruments
The company primarily produces embedded CPUs and analogue circuits, which provide more than

80%

of its sales.

Texas Instruments offers design engineers salaries ranging from

2 to 19 lakhs

annually.
What Skills Are Needed for Embedded and VLSI Engineers?
Embedded and VLSI engineers require a wide range of skills to be successful in their roles. These skills include:
Job Profiles
There are numerous positions in embedded systems and VLSI design, including,
Quality Assurance (QA) Engineer

Embedded Architect

Project Engineer

Design Engineer

PCB Design Engineer

SoC Verification Engineer

VLSI Layout Engineer

VLSI System Architect
Conclusion
With the right resources and research, engineers can find the perfect job for their skills and career goals. Engineers should also consider their skills and interests when selecting a job and company. Skill-Lync offers many embedded systems and VLSI design courses like VLSI: Basics of Digital Electronics. Where you can learn at your own pace, our experts will always assist you throughout your learning journey. Book a free demo session to learn more about our courses!