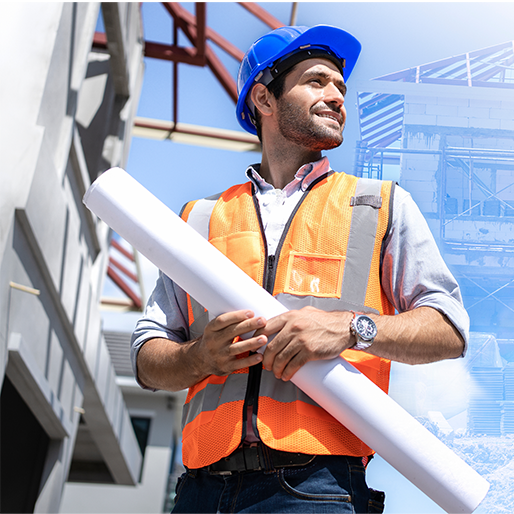 Have you ever wondered how tall buildings like The India Tower and Super Noida are built? The secret lies in the hands of a civil architect.
A high-rise building must withstand the heavy force of lateral wind and earthquakes. A high-rise building design & analysis is focused on high-rise buildings, construction analysis, and the tools and constraints needed to design them. The program equips those seeking a career in civil engineering with the knowledge and abilities necessary to plan construction sites.
The primary goal is to provide students with the most robust theoretical grounding in their chosen subject of study.
Who Should Learn High-rise Building Design?
A basic understanding of ETABS is necessary. The course is open to,
Students who have pursued a Diploma in Civil Engineering

B.Tech/ B.E. (Civil) graduates

M.Tech. or M.E. course graduates

Professional designers who want to update their knowledge and skills
What Are the Critical Aspects of the High-rise Building Design Initiative?
All students who complete the course will receive a certificate, and the top 5% of students will receive a certificate of achievement. Also, make sure to note the following points.
The program lasts for three months.

Both video and text-based instructions are available to assist this online course.

The program offers a flexible course cost structure with various choices.
How Can You Participate in Projects of High-rise Building Analysis Using ETABS?
Upon enrolling, the login credentials to our online learning site are immediately made available. The portal will provide the tutorials, quizzes, and video lectures needed to complete the construction technology projects. To finish the project at home, use the tutorials and the insights shared by the concerned instructors.
To further understand how it operates, sign up for a free demo. Pay only if you are sure that you will enjoy it!
Why Do We Need to Create the Model For a high-rise Building in ETABS?
Many software programs are available to assess and plan large projects quickly. Most software has both 2- and 3-dimensional tools. Still, because of its usability and graphical user interface, 3D analysis and design tools, ETABS is increasingly used by structural engineers in daily work.
These tools make it considerably easier to model, analyse, and design structures. Even though there are many software products available, there needs to be clarity over the software that should be utilised for the study and design of particular building structures.
To assist structural engineers in choosing the appropriate application for their everyday activities, it is necessary to research the strengths and weaknesses of some of these software tools.
What Do Civil Engineering Students Learn From ETABS Model High-rise Buildings?
Here is what you can learn from this course:
Since an earthquake's force changes over time, they are regarded as dynamic loads. The focus of structural dynamics is on how structures react to these dynamic loads.

Structural dynamics and earthquake engineering evaluate how a structure responds to seismic loads when developing high-rise buildings. Learners will eventually comprehend ideas linked to structural dynamics and earthquake engineering to develop high-rise buildings that withstand earthquakes.

To lessen associated damage, civil engineers consider buildings' stresses during an earthquake. With partial differential equations, the system of forces can be represented as a continuous system.

To forecast how structures will behave, you will learn to design them to withstand these forces. Understanding the mathematical models behind the forces operating on them during an earthquake is crucial.

All structures need foundations to support and stabilise the superstructure by dispersing the weight to the earth. Due to the size of high-rise buildings, their foundations are built to withstand huge weights.

Pile foundations are frequently utilised in high-rise buildings because they provide a solid, deep foundation for the building. It is crucial for students to understand how high-rise building foundations are constructed to enhance structural safety.
What Are the Skills That You Will Acquire?
This course will teach you the abilities needed to operate the SAFE and ETABS software packages. You will learn how to use the software programmes to create high-rise building elevation, analyse the outcomes, and apply the output to create the final construction designs.
Career Possibilities Upon Completing the Course
You can advance in your civil engineering profession by taking the Analysis and Design program of High-Rise Buildings using ETABS and Foundation Design Using SAFE for Seismic Loads course. The demand for structural engineers is great right now. Thanks to this certification course, you will have an advantage over other construction business candidates.
You can work with construction companies or businesses that operate in earthquake-prone regions if you are a structural engineer with an extensive understanding of the analysis and design of high-rise buildings situated in seismically active locations. These days, it is a rewarding employment option. You may even launch your own consulting business and provide services to businesses, independent contractors, and private individuals.
Obtaining certification from advanced courses, will assist you in advancing your career. After completing this certification course in addition to your regular civil engineering study, you can even consider the possibility of taking up teaching positions.
Conclusion
The essential components of a building's foundation are its structure and design. Specialised software and equipment are required to emphasize the stability of high-rise buildings for civil engineering projects.
The PGP Certificate Program in High-Rise Building Design and Analysis at the Skill-Lync Academy will emphasise on practical skill development.
Therefore, the most complex designs require expert knowledge and imagination, which is where the program is worthwhile. Aspirants can use this curriculum to expand their knowledge of design and analysis.
The program is accessible online in various packages. If you opt for the basic plan, the study materials can be accessed for only 12 months.
While if you wish for lifetime access to this comprehensive module, buy the Premium package.