Almost 3700 people lose their lives on roads daily. Top OEMs formulated a new solution called Advanced Driver Assistance Systems (ADAS) to reduce unfortunate events on roads.
It is an intelligent solution in which the car can predict possible events and alert the driver. With the new Artificial Intelligence and Machine Learning Technology, the autonomous vehicle can drive on its own with zero human interference.
What Is the Use of Advanced Driver Assistance Systems?
This system could be used to deliver crucial information about traffic, upcoming road closures, and blocks, levels of congestion, alternative routes to avoid congestion, etc. These technologies may also be employed to detect human driver distraction and exhaustion and issue cautionary signals or to evaluate driving performance and offer recommendations.
What Is an Advanced Driver Assistance System?
Advanced driving assistance systems (ADAS) in your car, such as forward collision warning (FCW), lane departure warning (LDW), automated emergency braking (AEB), and others, use data collected by sensors to calibrate its physical alignment, testing, and electrical aiming. Through ADAS calibration, every sensor is aligned to provide precise data about the vehicle.
A sensor on the car will be aimed at a place far off axis 50 or more feet down the roadway if it is out of equilibrium by even a little amount—a fraction of an inch or one degree, according to AAA. Similarly, according to IIHS Advisory 43, a change of just 0.6 degrees would result in a 50% reduction in AEB's reaction time.
ADAS calibration can be divided into Static Calibration and Dynamic Calibration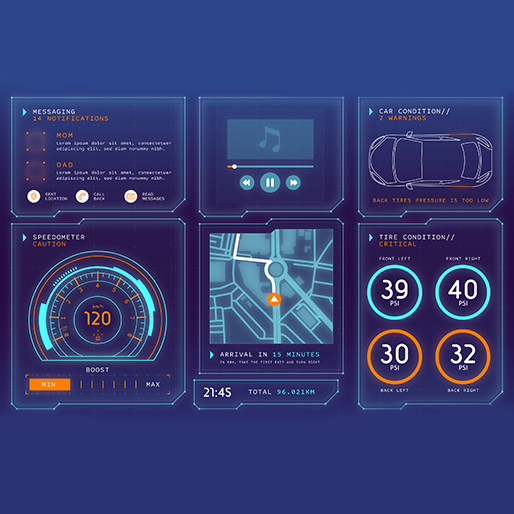 Static Calibration
:
Static calibration is conducted within a shop with the car parked. Finding the thrust line and positioning the car in front of the ADAS equipment you'll be using to finish the calibration are the first two steps. In order for the sensors to accurately recalibrate, all ADAS tools employ a set of targets (unique to OEM specifications). Among other things, it's crucial that the vehicle is positioned correctly from the targets and that they are at the appropriate height. Different ADAS products will have unique setup procedures, but it's critical that this phase be carried out accurately each time to provide a reliable result.
ADAS static calibration employs specialised tools in a specially drawn environment to configure sensor angles. Technicians need the following for accurate static calibration:
30' x 50' minimum of open space

A finished, leveled floor

Neutral, consistent hue for the floor and walls

Tuneable and uniform illumination

A clear area must surround the vehicle

No reflective materials

The windshield doesn't reflect anything

Absence of sunshine



Dynamic Calibration
:
Many ADAS calibration processes call for static calibration and incorporate dynamic calibration as the last stage.
Driving the car while attached to an ADAS scan tool at specific speeds and weather conditions is required for dynamic calibration, but it's not a test drive. Although the dynamic calibration procedure differs according to the OEM, some criteria are required.
Examples include following single or many vehicles, avoiding curves in the road, and traveling at the speed limit.
Companies offering ADAS Services
Enhancing your competitive edge entails staying ahead of the technology curve. Rising public concern over car safety and falling component costs due to cameras' and radars' widespread use are driving the industry.
Additionally, strict safety standards and regulations will likely boost market expansion over the projection period. The business is anticipated to expand even more due to major technology breakthroughs and the creation of multifunctional systems. The market size of ADAS is expected to grow from USD 27.2 billion in 2021 to 74.9 billion by 2030.
These are the top 5 global brands that have gained widespread popularity by dispensing ADAS services to their clientele:
Bosch is a trademark of Robert Bosch GmbH, a German technology and engineering company with its headquarters in Gerlingen.
The four business segments that makeup Bosch's vital operational areas are energy and building technology, consumer goods (including home appliances and power tools), industrial technology (including drive and control), and mobility (hardware and software).
The headquarters of the international automobile component maker DENSO Corporation is located in Kariya, Japan. After breaking away from Toyota Motor, the company was first known as Nippon Denso Co. Ltd. in 1949.
Toyota owns roughly 25% of the business. The business innovates and advances the future of connected automobiles, automated driving, shared mobility, and electrification through its global offices and facilities.
The German multinational automotive parts manufacturer, Continental AG, also known as Continental or Conti informally, specialises in brake systems, interior electronics, automotive safety, power train and chassis components, tachographs, tyres, and other components for the automotive and transportation sectors.
This Canadian business provides automakers with mobility technology. It was acknowledged in the 2020 Forbes Global 2000 as one of Canada's largest corporations.
According to sales of original equipment components, the firm is North America's largest automotive parts maker. It develops systems, assemblies, modules, and components for automobiles sold to various automakers, including General Motors, Ford Motor Company, FCA, BMW, Mercedes, Volkswagen, Toyota, Tesla, and Tata Motors.
With adequate training and knowledge in ADAS, you can apply for a profound position in any of the companies mentioned above. By enrolling in advanced driver assistance systems courses from Skill-Lync, you can boost your career prospects.
Sign up for Grow by Skill-Lync to earn free access to 50+ Courses, 100+ Assessments, 100+ Job Alerts and 500+ Workshops.