All of us use advanced smartphones with features such as facial and voice recognition. But have you ever wondered how they work? How do chatbots reply to you? or how are products suggested online? Machine Learning (ML) and Deep Learning (DL) is the answer. This blog will provide a comprehensive guide to understanding ML and DL differences. Let's jump right into it!
What is Machine Learning (ML)?
ML is a type of Artificial Intelligence (AI) that uses data and algorithms to learn from and make predictions, these algorithms are used to identify patterns in data and make decisions based on those patterns with some input from the user.
ML is the branch of artificial intelligence that enables computers to learn from experience without being explicitly programmed.
What is Deep Learning (DL)?
Deep learning is a subset of machine learning that uses Artificial Neural Networks (ANN) to learn from data and make decisions. Deep learning is a type of artificial intelligence that uses algorithms to learn from data, identify patterns, and make decisions without human intervention.
Deep learning has become a popular topic in the tech world owing to its potential to revolutionise the way we interact with technology and the ability to solve complex problems.
The main difference between machine learning and deep learning is that algorithms are limited in learning from complex data.
In contrast, deep learning algorithms can learn from complex data.
Deep learning algorithms are more accurate than machine learning algorithms, as they can identify more subtle patterns in data.
The Key Differences Between ML and DL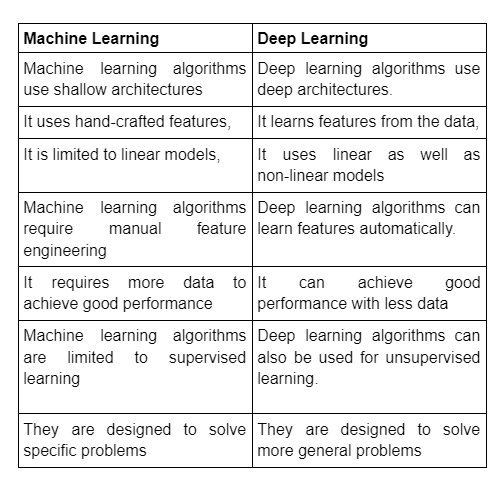 Applications
ML and DL are widely deployed in all industries, from agriculture to healthcare. Here's a glimpse of how these technologies are being used.
Healthcare industry
The machine learning algorithm can perform pattern recognition and predictions of diseases.

Deep learning is benign and used by research in fields like drug discovery and precision medicine.
Automotive industry
Machine learning can be used to develop advanced driver assistance systems to help prevent accidents.

Deep learning is used to create automated and driverless cars.
Manufacturing industry
Machine learning is extensively used in manufacturing for predictive maintenance, product development, logistics systems, inventory systems, and quality control.

Deep learning is also widely used in the manufacturing industry for predictive analytics, supply chain management, product development, and robotics.
Farming and agriculture industries
Machine learning is widely used for rice forecasting for crops, automatic weeding, and harvesting.

Deep learning can be employed in precision spraying, insect detection, field conditions management, yield mapping, and livestock management.
Finance industries
Machine learning in the finance industry involves fraud detection, data analytics, customer support, and algorithmic trading.

Whereas deep learning in the finance industry includes exchange rate prediction, stock market prediction, macroeconomic prediction, and price prediction
Energy sector
In the energy sector, machine learning is used for energy disaggregation, energy optimisation, and energy drive prediction.

Whereas deep learning is used for an energy reserve analysis, nuclear reaction modelling, and energy usage modelling.
Difference in Implementation
Conclusion
Machine learning algorithms are more interpretable, while deep learning algorithms are less interpretable. Although they are both artificial intelligence (AI) types, they are not the same. If you wish to learn more about similar topics, Skill-Lync is always here to help. Check the website of Skill-Lync to find courses such as Post Graduate Program in Data Science and Machine Learning and Math behind Machine Learning & Artificial Intelligence using Python. Do talk with our experts to upgrade your career for a better tomorrow!