Shrink Wrap is a command in the 2D menu page of Hypermesh which is used to generate an enclosed volume or solid mesh.
It is based on two algorithms:-
1. Tight Wrap
2. Loose Wrap
Loose Wrap is used when the feature capturing is not so required.
Example:-
Tight Wrap is used when feature capturing is required.
Example:-
Applications of Shrink Wrap in FEA
When highly accurate models are not required, like in the case of the powertrain parts during crash investigation, shrink wrap meshing is a technique to simplify a complex model's mesh. Element, component, surface, solid, node cloud, and point cloud shrink wrapping are all possible.
When using shrink wrap, numerous components can be wrapped if they are chosen.
The selection offers the choice to wrap all nodes, elements, components, surfaces, points, or solids, or if preferred, just a specific area of the model. The model parts that you wish to shrink wrap can be fed into the shrink wrap as either surfaces or solids, as well as 2D or 3D elements.
How to Execute Shrink Wrap?
We can generate a solid mesh within less time with good quality. The feature capturing won't be that satisfying.
Location :- 2D->Shrink Wrap.
The shrink wrap tool command looks like the below picture.
Step 1: Select the comps which should be meshed. Instead of comps, we can also select the nodes, elements(elements), surfs(surfaces), points, and solids.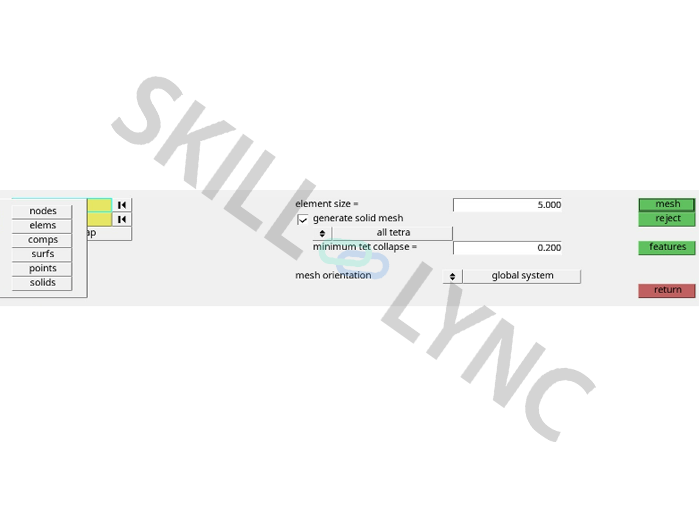 Step 2: Choose the wrap.
Element size:- We have to enter the target element length size.
If we uncheck the box then it will create a closed surface mesh (Volume mesh).
We have to check the box for creating a solid mesh.
We can generate two types of solid mesh:- 1. Hexa, 2.Tetra.
For Hexa, we have to give the minimum jacobian value.
Jacobian: The deviation of element from the ideal shape and size of an element is known as jacobian.
Step 3: Click on the up and down arrow box for switching to tetra.
For tetra, we have to give the tet collapse value.
Mesh orientation: The orientation of the mesh is based on two types.
Global system

Local system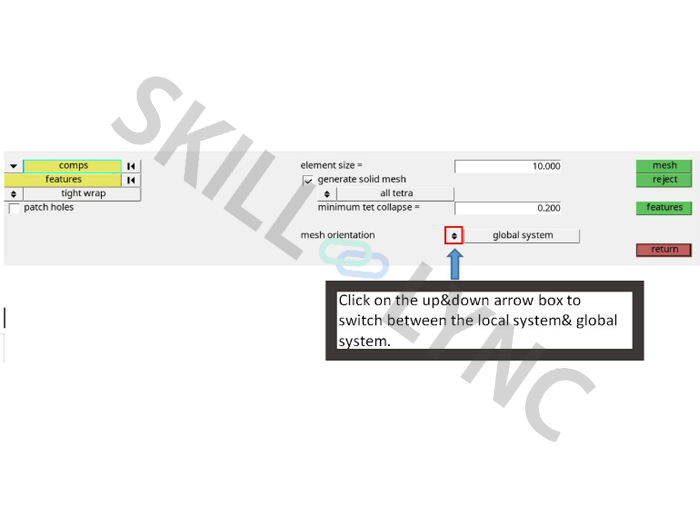 Click on the mesh.
The required solid mesh or the closed surface mesh(volume mesh) will be created.
Drawbacks:-
1, Feature capturing won't be good.
2, Intersections and penetrations will be seen in the assemblies.
3, Kinks and dents will form on the surface.
4, Mesh flow won't be proper.