This article will help you to rectify the ANSA graphical issue that happens on your PC. Often, the issue arises due to the low graphical configuration of your computer. It can be rectified by changing the settings of ANSA.
What is ANSA?
In a single integrated environment, ANSA is a comprehensive interdisciplinary CAE pre-processing tool that offers all the capabilities required for full-model build-up, from CAD data to ready-to-run solver input files.
ANSA enables parts assembly with a variety of connection types thanks to its complete management tools for welding and parts. Pre-processing decks for NASTRAN, DYNA, PAM-CRASH, RADIOSS, ABAQUS, and ANSYS work together to complete pre-processing by enabling direct model modification between solvers. Numerous other file formats are supported for structural, CFD, and other solvers, in addition to the formats of the solvers for which entire pre-processing decks are available, such as NASTRAN, DYNA, PAM-CRASH, RADIOSS, ABAQUS, and ANSYS. ANSA's primary pre-processing capabilities are improved by a sizable number of additional cutting-edge tools that let users finish specialised operations inside the software environment.
Step-Wise Method To Overcome The ANSA Graphics Issue:
Step - 1:
Open the ANSA and go to the tools. Select the settings and open it
Step - 2:
Once the settings tab is opened change to GUI settings and go to the general GUIsettings>general

Step - 3:
Check the Launcher checkbox that had marked in the below image,

Step - 4:
Now, close ANSA and open it again. You can see the ANSA launcher now like the below image,

Step - 5:
Remove everything in the other box and type the -performance_mode 3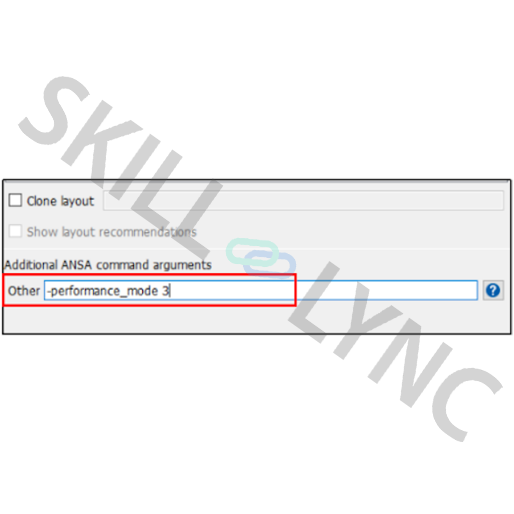 Step - 6:
The graphical issue will be fixed now but you will have to do the same procedure each and every time while opening the ANSA.