When the first computer was developed in 1936, technology took a significant leap forward. However, the first computer-to-computer link was not made until years later, in 1969. This advancement eventually cleared the path for the Internet-driven society we live in today.
In the present day, computer networks are the foundation of IT communication. They're utilised in a number of ways and can incorporate numerous types of networks. It is basically a collection of computers that are linked together in order to exchange information. So, What's a computer network? And what are the different types of computer networks? Fret not! We have got you covered from top to toe of it.
We have discussed all of these, which include their definitions and characteristics in this informative blog post. Let us have a look at what a computer network is exactly.
What Exactly Is a Computer Network?
A computer network is generally defined as a system that links more than two computing devices together in order to transfer and share data. Computing devices range from a server to mobile phones. Physical wires, like fibre optics, are used to link these devices, although they may also be wireless.
The first operational network, known as ARPANET, was established in the late 1960s and was supported by the United States Department of Defense. When computers were enormous and hard to move, government researchers utilised them in order to exchange information. We've gone a long way from that primitive network. The internet, a network of networks that links billions of devices worldwide, is the centre of today's world. Networks are used by businesses of all sizes to link their employees' devices and common resources like printers.
Traffic monitoring systems in cities are an example of a massive computer network. These systems provide information on traffic flow and events to emergency responders and officials. A simpler example is sharing papers with coworkers who work remotely using collaboration tools such as Google Drive. A computer network is at work every time we connect through video calls, share files, stream movies, chat through instant messaging, or just access something on the internet.
Well, computer networking is the field of computer science concerned with the ideation, model, maintenance, as well as security of computer networks. It combines computer engineering, telecommunications, and computer science.
Uses of Network: What Do They Do?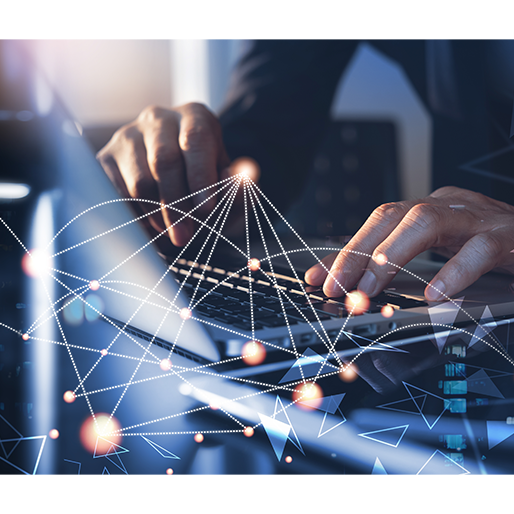 Computer networks are leveraged to do a variety of activities by exchanging information. They are utilised for:
A variety of purposes, including video, email, instant messaging, and other forms of communication.

Sharing devices like photocopiers, scanners, and printers.

Sharing operating systems and software on remote systems.

Enabling network users to conveniently access and retain data.
Computer Network: Key Components of It
A computer network is composed of two fundamental components: nodes or network devices and connections. The linkages bind two or more nodes together. Communication protocols determine how these linkages transport information. The communication endpoints, or origin and destination devices, are frequently referred to as ports.
Links:

These are transmission medium that comes in two varieties:

Wireless

Wired
Communication Protocols:

It is basically a set of rules that all nodes participating in data transfer must obey. The TCP/IP, Ethernet, IEEE 802, cellular technologies, and wireless LAN are all examples of common protocols. The Internet Protocol Suite is a conceptual model that standardised network communication. These communication linkages are suggested to have four functional layers:

Application layer

Transport layer

Internet layer

Network access layer
The majority of the present internet structure is based on the TCP/IP architecture, however, the similar but seven-layered OSI (open systems interconnection) model continues to have a substantial effect.
IEEE802 is an IEEE standard family that deals with LAN (local area networks) and MAN (metropolitan area networks). WLAN, often known as wireless local area network or Wi-Fis, is the most sought-after member of the IEEE 802 family.
Types of Computer Networks
Well, there are several types of network options available. Networks in computers may be classified based on their size and their function.
The number of computers and geographical areas that are part of a network must be used to represent the network's size. It ranges from devices in one room to loads of devices dispersed throughout the globe. The following are the most common types of computer networks:
Personal Area Network (PAN)
A Personal Area Network is basically a computer network that is built around a single individual. It is often composed of a mobile device, a personal digital assistant, or a computer. PAN may be used to link these personal gadgets to the internet and a digital network by creating communication between them.
Features of Personal Area Network:
The following are the primary features of PAN:
It is largely personal devices networked in a small region.

Allows you to manage the connectivity of IT devices in a single user's environment.

PAN covers tablets, mobile phones, and laptop computers.

It can connect to the internet wirelessly through WPAN.

PAN appliances include wireless keyboards, wireless mouse, and bluetooth systems.

Local Area Network (LAN)
A Local Area Network (LAN) is a collection of computer and peripheral devices that are linked in a specific location, such as a school, laboratory, house, or business building. It is a network that is extensively used for sharing resources such as files, printers, games, and other applications. The most basic sort of LAN network connects PCs and printers in a person's home or company. LAN will be utilised as one form of communication medium in general. It is a network of less than 5000 networked devices spread across many buildings.
Features of Local Area Network:
The following are the primary features of LAN:
Because it is a private network, it is never governed by an outside regulatory authority.

When compared to other WAN technologies, LAN works at a higher speed.

There exist numerous types of media access control methods such as ethernet and token rings.

Wide Area Network (WAN)
Well, another vital computer network that passes over a huge geographical region is the Wide Area Network (WAN). A wide area network system may be a local area network connection that links to other LANs through radio waves and telephone lines. It is typically restricted to a business or organisation.
Features of Wide Area Network:
The following are the primary features of WAN:
Because the software files will be exchanged among all users, everyone will have access to the most recent files.

WAN may be used by any firm to create a globally integrated network.

Metropolitan Area Network (MAN)
A MAN or Metropolitan Area Network is basically a computer system that spans a college campus, a whole city, or a smaller area. This particular network is larger than a LAN, which is often restricted to a single building or location. Based on the setup, this sort of network can cover an area ranging from tens of miles to several miles.
Features of Metropolitan Area Network:
The following are the primary features of MAN:
It mostly serves towns, villages and cities within a 50-kilometre radius.

Optical fibres and cables are the most often utilised media.

Data rates that are sufficient for distributed computing applications.
The Bottom Line
One of the student, Kathiravan M chose Skill-Lync as his upskilling partner and was able to analyse wi-fi networks using a mobile android app. He learned the basic concepts and upgraded his knowledge on networking to successfully complete the project.
If you are interested and want to know the ins and outs of computer networking, why not get yourself enrolled in a computer networking course and build a robust portfolio with Skill-Lync?
Get yourself registered and upgraded with Skill-Lync's online certification courses on computer networking.