VLSI Engineer is a highly sought-after career in India. It is an abbreviation for Very Large Scale Integration, which entails developing, verifying, and testing integrated circuits. A VLSI Engineer is responsible for designing and creating circuits for computers, cell phones, and other electronic devices. They're also important in the creation of embedded systems, which are used to control machinery and equipment.
VLSI Engineers are in great demand because of the growing need for electronics and technology.
What is meant by VLSI Technology?
VLSI stands for Very Large Scale Integration and is a technology that allows complex digital systems to be miniaturised onto a single integrated circuit (IC). This technology has created highly sophisticated systems that are smaller, faster, and consume less power.
The scientific explanation of VLSI is that it uses a combination of microelectronic circuits, computer-aided design (CAD) tools, and fabrication technologies to create integrated circuits that contain millions or even billions of transistors.
This allows extremely complex functions to be integrated into a single IC, resulting in smaller, faster, and more power-efficient systems.
VLSI Engineer Role in The Future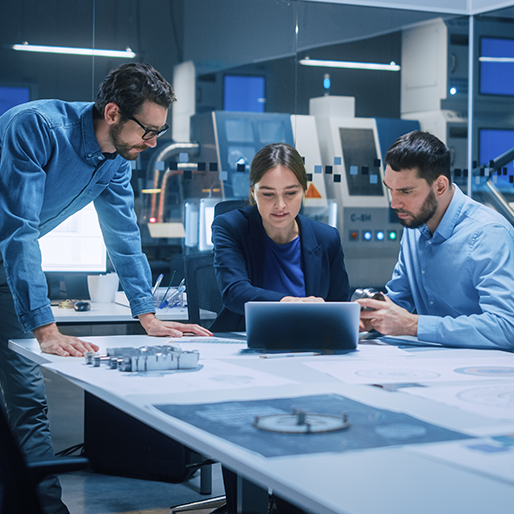 As the world has gone digital, the usage of electronic devices has increased. From simple calculators to autonomous vehicles, all the embedded systems deploys microcontrollers and microprocessors. Highly skilled professionals in circuit designing are needed to develop these complex ICs.
There are various fields where VLSI engineers can work, such as:
Consumer electronics

Avionics

Automotive

Telecommunication

Biomedical

Industrial automation
With the growing demand for new technologies, VLSI engineers are in great need.
Jobs Available for VLSI Engineers in India
Board Validation Engineer
A Board Validation Engineer is responsible for validating and verifying the design of printed circuit boards (PCBs) and other electronic components. This includes checking for errors in the layout, verifying the accuracy of the data, and ensuring that the components are correctly placed. They also evaluate the performance of the PCBs and other components, including their power consumption and signal integrity.
To become a Board Validation Engineer, an individual must have a strong understanding of electronics, electrical engineering, and computer hardware principles. It is also important to have knowledge of computer-aided design (CAD) software and to be able to read and interpret printed circuit board diagrams.
VLSI Chip Design Engineers
The VLSI chip design engineer is responsible for designing the modules for the systems-on-chip(SOC). These specialists use software tools to design different SOC modules to align with input and output specifications.
The field is divided into subdomains such as FPGA (Field Programmable Gate Arrays), ASIC (Application Specific Integrated Circuit Design), AMS (Analog Mixed Signal Design), DFT (Design For Test), and PCB (Printed Circuit Board) ( Board Design).
VLSI Verification Engineers
Verification is a process of validating the VLSI chip's SOC modules functionality. It incorporates different methodologies to test the system at different stages of development. The role of the verification engineers is to check if the designed module meets the requirements. They debug, troubleshoot and test to validate the accuracy and system modules.
A library developer is responsible for designing, creating, and maintaining digital libraries for VLSI circuits. This involves creating a library of standard components and generating the associated layout configurations and design rules. They also need to ensure that the library components are compatible with the latest design tools and industry standards.
Product Application Engineer
A Product Application Engineer is a professional responsible for implementing technological solutions in a product or service. They understand the entire functioning of the system and improve its efficiency. They develop system architectures and work with engineering hardware components to optimise the VLSI system.
Additionally, Product Application Engineers should know about specific software programs, such as CAD and MATLAB, as well as knowledge of industry standards and regulations.
How to Become a VLSI Engineer?
Only individuals with a bachelor's degree in electronics, EEE, or a similar circuit field are eligible to work in the semiconductor industry. It is also open to computer science/IT software developers with a thorough grasp of digital foundations, semiconductor physics, and software development.
To work as a VLSI professional, follow these points:
After you finish graduation in any of the above-mentioned principles, learn about various VLSI methodologies and implementations

Polish your problem-solving abilities

Learn how you must solve Boolean problems and design circuits using logic gates

Brush up your mathematical knowledge and stay updated to latest technology trends

Learn the

Basics of Digital Electronics

.
What is the VLSI Engineer Salary in India and Overseas?
VLSI Engineers in India and overseas are in great demand because of their competence in high-end chip design. The range for VLSI Design jobs salary can vary widely depending on the company, location, and experience level.
Generally, the VLSI Engineer salary in India is ₹4,78,947 per year. Salaries can range from ₹245,000 to ₹700,000 per year depending on experience, qualifications, and other factors. VLSI Engineers can get a chance to earn an annual income of roughly $105,000 in the United States.
Conclusion
VLSI career and salary in India is a great career choice for engineers with interest in the semiconductor industry. The demand for VLSI engineers is rising, and the VLSI jobs salary is also expected to rise in the future.
If you want to gain more knowledge in embedded systems, enrol in Grow by Skill-Lync and learn for free.