"First impression is the best impression", we've all heard this expression before, and for the most part, this old saying holds true now more than before. The impression a person gets when they first meet you, whether online or offline, is the character you are most associated with. Hence it is essential to make a good first impression. When a recruiter is looking to hire you, they look at your Linkedin profile, so a well-crafted LinkedIn profile is essential to make a good first impression and to stand out in the job market. This guide will explore the key elements of creating an attractive and professional LinkedIn profile, from uploading the right profile picture to mastering your summary statement. Read on to discover how you can create an eye-catching profile to help put you ahead of the competition!
By following these tips, your LinkedIn profile will make a great first impression on potential employers or clients.
Understanding the Basics of LinkedIn
No matter what industry you're in, a good LinkedIn profile is a powerful tool in your professional arsenal. To take full advantage of what LinkedIn offers, it's important to understand how the platform works.
The algorithm is what determines which content appears in users' feeds. The algorithm takes into account several factors, including,
Who are you connected to

What groups are you a part of

What keywords do you follow
Hashtags are also a great way to get your content noticed by people who aren't already following you.
When crafting your profile, it's important to remember that potential employers or clients will be looking at it. Make sure your profile is professional and highlights your best qualities. Don't forget to include a link to your website or blog if you have one!
Crafting an Eye-catching Headline
When creating a headline for your LinkedIn profile, think about what will make you stand out to potential employers or clients.
Use keywords that are relevant to your industry.

Be sure to include any relevant certifications or degrees

Include your current job title in your headline
Ultimately, your goal is to create a professional and attractive headline that will make people want to learn more about you.
How to Write a Professional Summary
Most people believe that the "About" section on their LinkedIn profile is a professional summary, but this could not be farther from the truth. The "About" section summarizes your experience and what you can bring to the table, but it is not a place to sell yourself or your skills. This is where the professional summary comes in.
A professional summary is a brief yet powerful way to introduce yourself to potential employers and clients. Things to remember when creating your summary are as follows.
It should be written in the first person

It should include your most relevant,

Qualifications

Skills

Experiences

It should be under 50 words.
Here are some tips on how to write a professional summary:
Highlight your most relevant qualifications
Adding Recommendations and Endorsements
When it comes to LinkedIn, adding recommendations and endorsements can be a great way to add credibility to your profile. Recommendations are similar to testimonials and can come from past clients, colleagues, or anyone else who can attest to your work. Endorsements, on the other hand, are more like skill endorsements. They're a quick way for others to vouch for your abilities in specific areas.
Both recommendations and endorsements can be added by going to the "Recommendations" section of your profile and clicking the "Ask to be recommended" or "Endorse someone" button. You can also add them directly from people's profiles by hovering over the icon next to their name and clicking the appropriate button.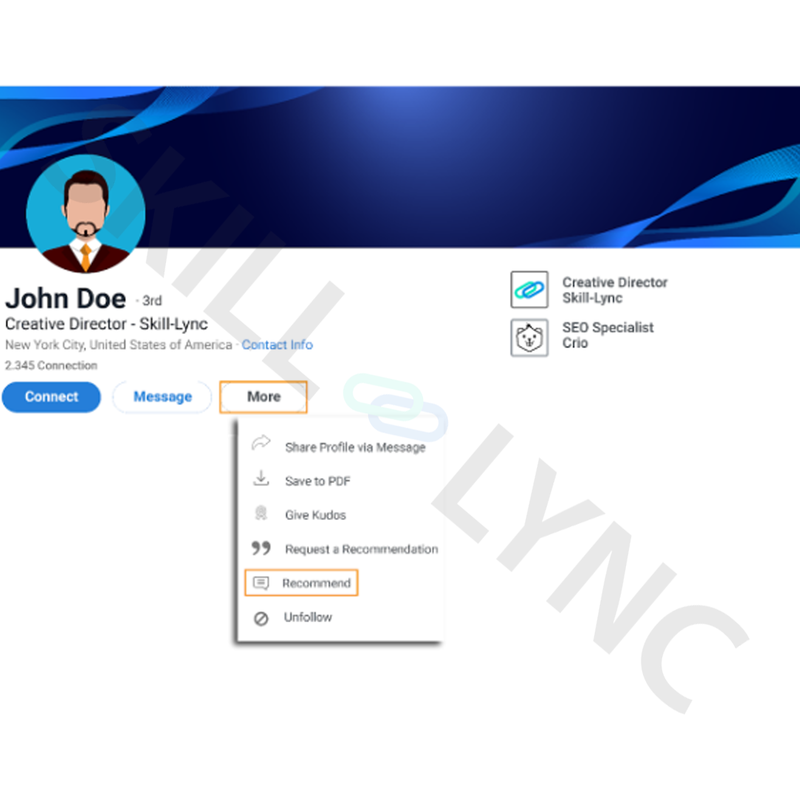 Making Connections on LinkedIn
To make connections on LinkedIn, you need to have an up-to-date and professional profile.
The first step is to add a profile photo that is representative of your brand.
You should also add a cover photo that speaks to your industry.
The next step is to start connecting with other professionals in your field. LinkedIn provides a great way to search for and connect with potential contacts.
Once you have built many connections, join groups relevant to your industry or interests. This is a great way to meet new people and learn about new opportunities. Participating in group discussions will also help you build up your credibility as an expert in your field.
Optimizing Your Profile for Search Engines
Optimising your LinkedIn profile for search engines is important if you want to ensure it is getting seen by the right people. Here are a few tips on how to do that:
When choosing what words to include in your profile, be strategic about it. Consider what terms someone might use to search for someone with your skills and experience, and ensure those keywords are included in your profile.
Connect with other professionals
Conclusion
Crafting an attractive and professional LinkedIn profile is essential for any job seeker. With these tips, you should now have all the knowledge necessary to create a powerful LinkedIn profile that will help you stand out from the competition and open up more opportunities for success. Another way to get the attention you need is by upskilling yourself; that's where we come in, Skill-Lync is an online platform that provides courses on all engineering domains, including computer science, electrical, electronics, civil, mechanical, and biomedical. Check out our other blogs to learn more about the dos and don'ts of creating the perfect LinkedIn profile.
Good luck crafting your unique and compelling LinkedIn page, and start your dream career with Skill-Lync!